Category: Around the house
A Layne Post
Christmas music started early this year. It has been difficult to muster up the holiday feeling, but I'm determined. Late November decorating, an extra early Christmas cookie exchange, classic Christmas movies playing in the background throughout the days…
Reality is we've been consumed by the building project, more so as it nears completion. Trying to keep things budget-friendly, Jon is personally doing/making lots of stuff. He is BUSY. My current house feels a bit like a warehouse. We hope to move in sometime between Christmas and the first week or so of January. I keep having to pause, shut my eyes, and imagine what the Lord has planned for the new space. It is going to be awesome. Really. Imagine my family, six people, plus possible twelve patients… the afternoon could mean our yard is full of eighteen people! In those moments, my heart leaps. Guys, the Lord's favor and abundant blessing on every step has been humbling. He deserves all the glory and praise.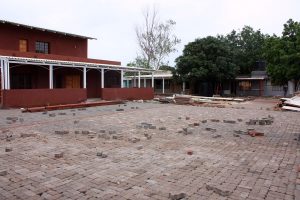 In other news, the three patients that are currently with us have added such joy and pleasure to our family. They have each endured many disappointments with their health and it is obvious they are wearied. This is a weighty week, as we will receive some health news on each. Will you pray with us for some good news?
Also, we had the awesome privilege of Jon's parents coming last week! They spoiled us rotten, showering us with love. It was such a good time to fill us up and give us the extra soul energy needed to finish this year out. The girls adored their grandparents.
This morning I was reflecting on the song "O Holy Night". I always love the part about the "thrill of hope" that the Christ baby brought to a weary world.
O holy night
The stars are brightly shining
It is the night of our dear Savior's birth
Long lay the world in sin and error pining
Till he appeared and the soul felt it's worth
A thrill of hope, the weary world rejoices
For yonder breaks a new and glorious morn
And though we may still feel wearied, we are living in the new and glorious morn! No longer do we wait for our Savior. He is no longer just a hope, for He has come! He is ours, and we are His! Such good news.
A Layne Post
It is happening, guys. The Lord has been so amazing in each step of this. He has led us to the perfect contractor, even if it happened at the last minute through an off-guard switcheroo. After a week of working together, he was the guy for us. He loves the Lord, he loves a job done well, and he loves a job done fast. His team is incredibility hard working. These pictures are after 1 week of work! We decided to buy and manage materials ourselves to save some money. It has been a big job, mainly for Jon, but the Lord is equipping him well. Three local vendors have caught the vision and provided us discounts. Lord willing, the builder is planning to hand us keys sometime in December! Please keep praying for the project, that the Lord's favor would remain on it, that the spirit of the Lord would, even now, inhabit that property.
And that is not the only building we are doing. We are busy in the process of building relationships, building trust, building faith…
We currently have five delightful women living with us. There is always a bit of settling in and getting used to day-to-day life together, but it seems we have hit our stride. The girls always take a little time to warm up, but each day I have been hearing Anaya, Jovie, and Karasi greet their Tias in Portuguese without my prompting. And just yesterday Selah seemed to finally befriend her Tias. It was a lazy afternoon lounging in the grass, laughing, and playing games. It brings my heart such joy and fulfillment to see our patients take delight in our children and their play.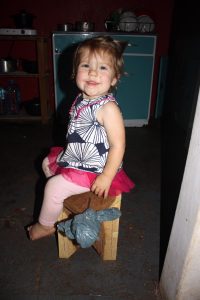 Selah is ready to drain a coconut, using the Mozambican ralo. (The ladies loved this picture)
I am so thankful for this season. It is busy, full, and in moments a bit overwhelming; however, I constantly reminded of my inability to control things or do things well on my own. In response, I am attempting regular surrender and an intentional walking by faith. Guess what I've found? Peace. Peace in the midst of contractor changing, budget changing, schedules changing.
Thanks for praying with us, dreaming with us, supporting us. God is working here, and I'm humbled you and I can be a part.
A Layne Post
The day was hot and even the afternoon shade brought little relief with the lack of breeze. Two men sat outside on a weathered wicker couch, three little girls ran around apparently unhindered by the heat, and one pregnant woman worked in the kitchen frying chicken. You wouldn't guess Christmas was approaching, unless you walked into the living room to see the trimmed tree and the decorations strewn about.
But there in the ordinary, avent rolled in, the same way a King could be born in a lowly stable. Hope in dark places.
One man, a fisherman by trade, dares to open up about the uncertainty of his future and the truth of his advancing disease.
A little girl whines for help in the swing.
The other man tells a parable of a man on a boat that falls into the sea, and then is tossed a life saver. The stranded man only experiences salvation when he re-enters the boat. The story-teller explains how we are all, being sinners, stranded in the sea. Some have calm waters, others have a storm; some have a longer rope and others have a shorter rope, but we are all in need of a life saver and all in need of being pulled into the boat. He tells how Jesus is that life saver and how our rope, our life, whether long or short is only saved in the end when we get in the boat.
A little girl takes her sister's toy and crying ensues. The woman hollers from the house. The kids come inside for dinner. One man follows. The other man goes to his kitchen to prepare food.
All sleep.
The next morning as bandages are changed and two men have their morning reminder that disease is near, the fisherman recounts a dream of being stranded in the water with large waves all around. "I am dying!" he yelled in his dream. A life saver appeared. The dream ended with him being pulled in the boat. Saved.
Advent comes.
As Christmas celebrations commence, we are reminded that this little baby, Jesus, was born into a hurting world with an ultimate goal – salvation for all.
Glory in the highest!
A Jon Post
There are a few things running around my mind. I've decided to make a blog out of it.
Layne is traveling this week, I'm at home with my three girls, Casa Ahavá is empty, two of the most recent four have transitioned out.
Inês finished her treatment and is with her family, hopefully, with cancer in remission.
Pedro… well… if you've read the last few posts you know a bit about his story. He's home, still alive, still paralyzed on his right side, still smiling. His newborn son has a name; Marcos Pedro Mavango. Pedro is in a good place.
Campande and Sara are both visiting their families between treatments and will be back tomorrow.
There was some work that needed to be done on the Casa Ahavá rooms that was easier done with no one in there (re-laying broken concrete and tile, re-painting the kitchen floor, etc). We spent some money on some nicer counters and cabinets for Casa Ahavá's kitchen and are very pleased with how it came out.
And so here I sit, home with my kids, mind spinning, thinking about washing diapers, washing kids, washing dishes, washing my sins, washing my wife in the water through the word (whatever that means), washing Casa Ahavá's floors, washing my kitchen floors (I knocked the toaster over a couple days ago, you know how all those toast crumbs get in the bottom of those things? Yeah… ALL over my kitchen).
I've also found myself thinking a lot about money this week. Money I spent on Casa Ahavá (paint, tile, grout, cabinets, toilet cleaner), money I spent on my family's groceries, money I spent on a plane ticket to send Layne to America. We've written on here about how we're in need of support, how our expenses are higher than our income. How does it then follow that I flew to America last month for a wedding, and that Layne flew to America this week for a birthday trip?  How do I look supporters or potential supporters in the eye and say we need more help? I know that you all have entrusted me with these resources and I feel that it's important to be honest and open about how I use them.
I went to the USA last month to be Javan and Holly Mesnard's best man at their wedding. The plane tickets from here to Phoenix were paid for by a generous person who wanted to make sure Javan was blessed. No donated money was spent on that travel.
Layne is in the USA right now. Last year in January I decided I wanted her to go on a "girls trip" with her sisters, mom and niece for her 30th birthday which is this year the same year has her mom's 60th. We've been saving a little bit of money every month since then to pay for this trip.
We do take vacations from time to time. We do try to rest from time to time. We feel like it's important to find time and memories outside of our full time ministry at the hospital and Casa Ahavá.
This week, while the other two girls were sleeping, Anaya was playing with her stuffed animals. She held her stuffed bird in her arms and said in a pleading and mournful voice, "Don't die birdie. Don't die in my arms. Just don't die yet. I love you birdie."
Anaya is 3.
This not an uncommon way for her to play. She often plays at dressing bandages, helping her sisters and toys while (pretend) sick and vomiting.
Jovie often pretends that Chauncey, her stuffed elephant, is sick and needs to be rushed to the hospital.
Jovie is 2.
These are the things that keep my mind spinning and my heart questioning about how we're doing as a family. I don't think it's bad that my 3 and 2-year-old are so familiar with death and sickness. But I don't know if it's healthy for my 3-year-old to be pretending to have a seizure (like Uncle Pedro) while she's lying in her bed.
And so I pray.
I was in church recently and there was a guest speaker talking about the dreams God gives us and what He purposes for us to do. He started walking around the room, asking people what they wanted to be. He didn't come to me but when I started thinking about how I would respond to that question the answer was immediately obvious. I want to be a loving husband and a righteous father. That's all I really want. Those two things are much more important to me than Casa Ahavá.
So, we take Sabbaths. We take times to rest away from sickness, pain, and death. We try to give our daughters a world full of life and joy mixed with the pain and sorrow they see every day.
That may be hard for some people to support. Some people may prefer that I spend more time and effort on Casa Ahavá than I do on my wife and kids. That's really, really, really fine. There are lots of missionaries and ministries around the world who are doing INCREDIBLE things for Jesus. They need your help too and I'm sure there are plenty that share your values.
For those of you who are on board with me, please don't be offended if I splurge now and then for my family. I can't work a few overtime hours to make some extra spending money so I can take my family somewhere nice for the weekend. I can't work towards a promotion and the extra money that comes with middle management.
I live with my hat in my hand, hoping that my priorities are straight, that my wife feels loved, that my kids are fathered well, and my patients are served with all that's left over.