A Layne Post
This is a continuation of the story that began in the last post. Thanks for sticking with us.
The next day was Saturday. Out of nowhere we received a text message from Inês' son explaining who he was and that she wanted to talk with us. Our hearts leapt! It had been months since we had had contact with her, and now here we were in Beira and we could actually visit her! How awesome of the Lord! When Jon told her we were there, she could hardly believe it. We told her we could come to her house on Monday. I joked with Jon, "Now, if only Sara would call, we could see everyone!" and we shrugged it off as an impossibility.
Later that morning after a feed, Selah started gagging and not breathing well. We got out the nose sucker and after a max of a couple minutes, which felt like an eternity, she coughed up some mucus and was fine. I, on the other hand, was not. I was left in tears, tired from the lack of sleep of the previous nights and scared about what had just happened. Jon called an missionary friend of ours that is a Doctor teaching in the central hospital of Beira. We wanted to know our options.
There were not many.
There is one German pediatrician in Beira he trusted.
She was on vacation.
And so we prayed. A peace came over us. Selah was fine at this point with a hint of snot, no fever. We decided to monitor through the night and decide if we wanted to see a doctor the next day. We continued to our first patient visit that afternoon.
Edson was a boy when we met more than four years ago. He and his mom were quite dear to us. Edson lost his leg during his time with cancer, but since then has been thriving. We visited him in 2013 and were filled with excitement to be reunited. When Jon called him, Edson knew his voice and exclaimed, "Tio Jon!" So off we went, me still a little shaky from the morning's event, but confident the Lord was in control.
We were greeting with big grins and kisses. Edson was no longer the boy we once knew, but a man with his 18th birthday fast approaching. How good to see his same smile matured. His grandma came to take Selah from me. I explained her congestion and the fact we wanted her upright and then I handed her over. In my spirit it was a handing her over to the Lord, a symbol that I trusted Him and His works. The visit was sweet.
Selah had a good enough night with mild congestion, but no big scares. She was still playing great during her awake times and had no fever. The big girls were doing okay, Jovie a little worse.
Sunday morning Jon picked up Benjamin and brought him to the guesthouse for a visit. It was good to see him, his white hat, and his smile, even though we all know he is in constant pain. The girls all gave him big hugs goodbye, Jon and I knowing this was the last time we'd see him this side of heaven.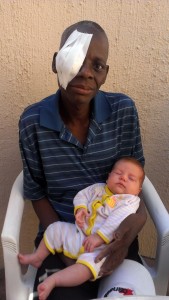 Also that morning, we got a call from Campande, the first in a month or more. He, like Inês, was so happy to hear we were in Beira as a family and that we wanted to see him. We praised the Lord for His hand on the trip and our time.
Jovie rested for the morning and in the afternoon we went to visit Anita and her daughters in their home. During her time at Casa Ahavá, Anita had consistently bragged on her 4 daughters. It was such a treat to finally meet them in person. What a wonderful job Anita has done as a mother! Her smile and shy giggle hadn't changed. The girls enjoyed chasing cats and chickens, though Jovie tired quickly and returned to Dada's lap. Selah contentedly slept with whomever want to hold her.
That evening we were hosted by a sweet South African family that had housed Jon during his trip in the beginning of March. The girls played great. Even Selah was full of smiles and coos. It wasn't too long though and poor Jovie zonked without much of an appetite. In the middle of dinner, Jon got a phone call. He came back in with a smirk on his face. It was Sara. After not seeing Campande since their time together in Casa Ahavá, she happened to run into him at a bus stop and he told her we were in town. Awe. What deep assurance we had that we were where we were supposed to be, when we were supposed to be there. Despite the trials we felt we were battling with the girls health, God was in control. We cut the night short and got the girls in bed early.
The night went alright, congestion and coughing for all but Karasi. We had three visits to do and then we were done. We would go to Berta's and Inês' homes in the morning and then Jon would pick up Campande and Sara and bring them to the guesthouse in the afternoon.
It was great to see Berta smiling and cheerful after such a rough time during her stay at Casa Ahavá. Her family is taking such great care of her, bringing much peace to our hearts. We repeatedly apologized for the visit not being longer, but we needed to see Inês that morning and get the girls back to the room to rest. Jovie was stuck to her Dada's lap, extremely tired and had no appetite.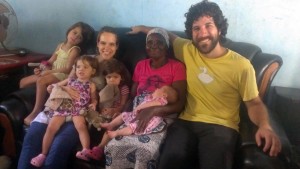 I think the image of Inês walking from her house to see us and snatching up Karasi will forever remain in my heart. She was thin, but strong as ever. Her oldest son died last November and you could see and sense the sorrow was still deep. The girls got to watch coconuts cracked open, peeled apart, and cut open to see the milk, though they were not so keen on trying it. We had a sweet visit, though too short as well. The girls were in desperate need of a rest.
I really felt hopeful that everyone was close to better, and then I am not sure what happened, but everyone got worse that afternoon. The girls all fell asleep when we got to the room. When Sara and Campande got there, Anaya and Jovie just could not manage getting out of bed, and we let them stay. Selah and Karasi were happy to visit. We did manage to enjoy some smiles and laughs with our friends, and it was awesome to see both in such great health. In a ministry where the majority end up dying, it is heart lifting to see some wins.
We will finish this story in our next post. We know it is often hard to put time aside to read long posts and view many pictures. We hope breaking it up like this doesn't feel like we are just trying to generate more traffic to our blog. Thanks for your care, prayers, and interest in how God has worked in and through our family here in mission.