A Layne Post
If you guys went to visit our last blog post, you noticed the new look to our website. You may or may not have noticed all the new features, so I am going to highlight a couple for you. The main changes are under the "Pray" section. There are five options. Our hope is that you will be able to feel more connected as a team member and be able to pray more effectively for our project and our patients. Under the option "Pray for a Patient" we will weekly highlight a specific patient and their current needs, sometime even past patients that we remain connected with in their homes. Under the option "Pray for Our Family" we will post personal prayer needs for Jon and me and the girls. Under the option "Pray for Casa Ahavá" we will keep updated which patients are living with us, their needs, and needs within their little community. There is also an option "Ask Us to Pray for You". We hope you'll take advantage of this one. It is an opportunity for us to stay connected with YOU and your life and needs. It is an honor for us to be a part in such a way. The last option is super cool. it is the "30 Day Prayer Guide". It is a static guide that doesn't change, but gives you daily focus points to pray along side us. So, look around! Take part!
We also have some huge news! We have been wading through the process of getting our building permit here. For various, very normal reasons, things were moving slow. The paper process is just a slow one here and we knew that going into this. The Lord had really brought peace to our hearts,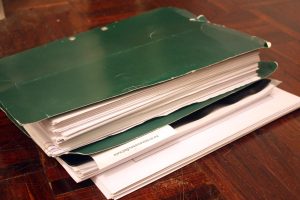 knowing He had perfect timing for the expansion of Casa Ahavá. Then out of nowhere, God connected Jon with the right people at the municipality and things began to move. When I say move, I mean fly! One specific engineer liked the vision of the project, took it under her wing, and personally made it her mission to get us to where we are today – our project and all it's plans (topographical plans, architectural and structural plans, building estimate, etc) are officially submitted and awaiting our permit. We have been warned this process could take from two weeks to one year. But do you know what? The connection God made… is one of the two people who approve the project for building. She said our permit will be out this week! Our contractor is ready to start Monday! In reality, it may take a few more days, but it is absolutely amazing! To God be the glory. The project is estimated to finish in 8 months. Please pray with us that Gods hand remains on every step. These time frames are, of course, not guarantees, but we hope and pray that they are realities.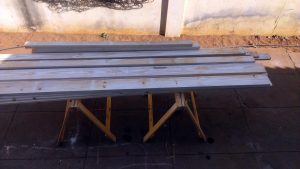 In other news, our family is making a quick trip to South Africa this weekend to gather supplies for Casa Ahavá to officially reopen next week and to spend some time with dear friends to refresh our souls and prepare for the busy exciting season ahead. We are making some changes around Casa Ahavá, too. We are getting rid of our queen and double mattresses and getting all twins, creating space for 6 patients. Jon is busy this week making the 6 bed frames and drawers that will come with us to the new house. It is a small increase, from 4 to 6, but will give us a little glimpse into life serving more. Pray with us about which patients will come to live with us, as there are more than we can house waiting at the hospital.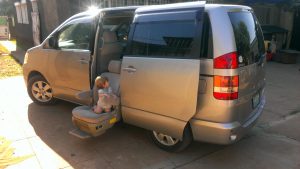 And while everything is changing, so are our vehicles! We found out a bit before going to the States that the van we had been driving required a special license; it is twelve passenger van. We were initially told otherwise, but alas, it is true, our licenses do not cover above 9 passengers. We bought the van before we knew we were expanding with the idea that we could fit our entire family plus patients. With the expansion, however, this just isn't possible. So, after talking with the Voices of the World board, we decided we should downsize and then buy a 3rd vehicle, one specifically for Casa Ahavá. We were able to buy locally a van equipped with a handicap chair, which will be awesome for our project. We are also in the process of ordering a family van and importing from Japan. We hope to be able to sell the twelves passenger van for near the same price of the two new vans put together. God is good!
Our hearts are anxious and ready for the next phase. Our girls are ready for new Tias and Tios (Aunties and Uncles) to join us. Anaya has been drawing up her own house plans, which always includes space for our patients. I love that they get to be a part of this with us!