A Jon Post
Here I am again sitting on this worn green bench in the shade of a 6:30 AM pre-summer morning. "Oncology Service" hangs written in red block letters on the large sign hanging above the door, announcing in stark honesty the tools used to hold back tides of uncontrolled, malignant cell division.
I've spent more hours in these halls than I can count.
Here weariness lays on beds like thin white sheets, bleached and stretched and covering sick bodies in its embrace.
Here joy is eked out like a spoon of sugar in morning tea poured in to cover the bitterness of the dark, hot liquid, but as of late, too often forgone because there is just not enough in this hospital to go around.
Here tears are the dusty shoes we walk around in… ignored, expected, necessary to walk these corridors of pain and medicine.
This morning those shoes are worn by an old man in a thin blue windbreaker. The morning is murderously hot and humid but he clutches his windbreaker tight against his back, pulling it taught around his heaving shoulders.
Today he wears these tired shoes along with the large copper wedding ring on the hand he is using to wipe away his own unrelenting tears.
The woman for whom he wears that ring had lain in a bed here in this Oncology Service under her thin, bleached weariness for the last several weeks trying to find some sugar to flavor her tea.
This morning the hours I've spent here lay heavy on me.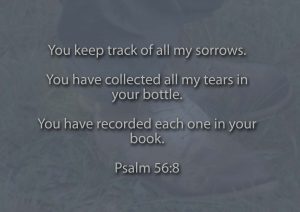 I've seen so many Creator-image-bearers wear those dusty shoes that I've forgotten how precious they are in His sight.
This morning the Angel of Death stung the wife of the image-bearer and he put on his shoes and wept.
I've seen those shoes walk these halls often, even worn them myself many times.
But I'd forgotten their worth.
Now a copper ring, because cancer comes to the copper wearers more often than the gold and platinum wearers, shines bright on a shaking finger.
A husband weeps on a rickety green bench for a wife stung by the reason creation groans for redemption. The Angel of Death came for the copper-wearer's wife and offered him those dusty shoes to help walk these grey halls of pain. And I sit in witness of the shoe-wearer.
Too often I've forgotten how valuable those shoes are. I've forgotten my Savior wore them often. He wore them when he heard his friend died. He wore them when he prayed in a garden. He wore them when he walked up a hill.
We have His promise that he'll take those shoes and burn them one day. But until then, they can help us walk these halls.