A Layne Post
Christmas music started early this year. It has been difficult to muster up the holiday feeling, but I'm determined. Late November decorating, an extra early Christmas cookie exchange, classic Christmas movies playing in the background throughout the days…
Reality is we've been consumed by the building project, more so as it nears completion. Trying to keep things budget-friendly, Jon is personally doing/making lots of stuff. He is BUSY. My current house feels a bit like a warehouse. We hope to move in sometime between Christmas and the first week or so of January. I keep having to pause, shut my eyes, and imagine what the Lord has planned for the new space. It is going to be awesome. Really. Imagine my family, six people, plus possible twelve patients… the afternoon could mean our yard is full of eighteen people! In those moments, my heart leaps. Guys, the Lord's favor and abundant blessing on every step has been humbling. He deserves all the glory and praise.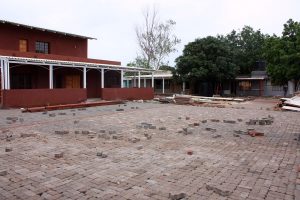 In other news, the three patients that are currently with us have added such joy and pleasure to our family. They have each endured many disappointments with their health and it is obvious they are wearied. This is a weighty week, as we will receive some health news on each. Will you pray with us for some good news?
Also, we had the awesome privilege of Jon's parents coming last week! They spoiled us rotten, showering us with love. It was such a good time to fill us up and give us the extra soul energy needed to finish this year out. The girls adored their grandparents.
This morning I was reflecting on the song "O Holy Night". I always love the part about the "thrill of hope" that the Christ baby brought to a weary world.
O holy night
The stars are brightly shining
It is the night of our dear Savior's birth
Long lay the world in sin and error pining
Till he appeared and the soul felt it's worth
A thrill of hope, the weary world rejoices
For yonder breaks a new and glorious morn
And though we may still feel wearied, we are living in the new and glorious morn! No longer do we wait for our Savior. He is no longer just a hope, for He has come! He is ours, and we are His! Such good news.